Unicorn Candy Bubble Crumb
Regular price
Sale price
$18.00 NZD
Unit price
per
Sale
Sold out
Get ready to experiment a bit of Bubble bath magic with a hidden crystal gift! 🎩 ✨️ 🦄
Sprinkle a little or a lot into your hot running bath water and watch as your bath magically changes coloir while it fizzles and bubbles and foams!
Our bubble crumb mixture is a luxurious hit! Jave you tried it yet? Nows good 😁 
No bath? No worries.... scoop some into a contanier and give to the kids in the shower!! Fizzy foamy Potion making fun time 🙌
Scented with Unicorn candy fragrance fruity with a base of vanilla this one's a crowd pleaser 
Ingredients...
Sodium bicarbonate, SLSA, cocoa butter, citric acid, arrowroot powder, cream of tartar, colloidal oatmeal, phathalate free fragrance oil, colour, bio glitter, crystal
(Side note- Please do not eat our body products or put crystal gift in mouth 🙏 always supervise kiddos in water)
What's Inside

Sodium bicarbonate, sodium lauryl sulfoacetate, cocoa butter, citric acid, arrowroot powder, sweet almond oil, potassium bitartate, coconut milk powder, fragrance oil, polysorbate 80, liquid bath bomb colour, witch hazel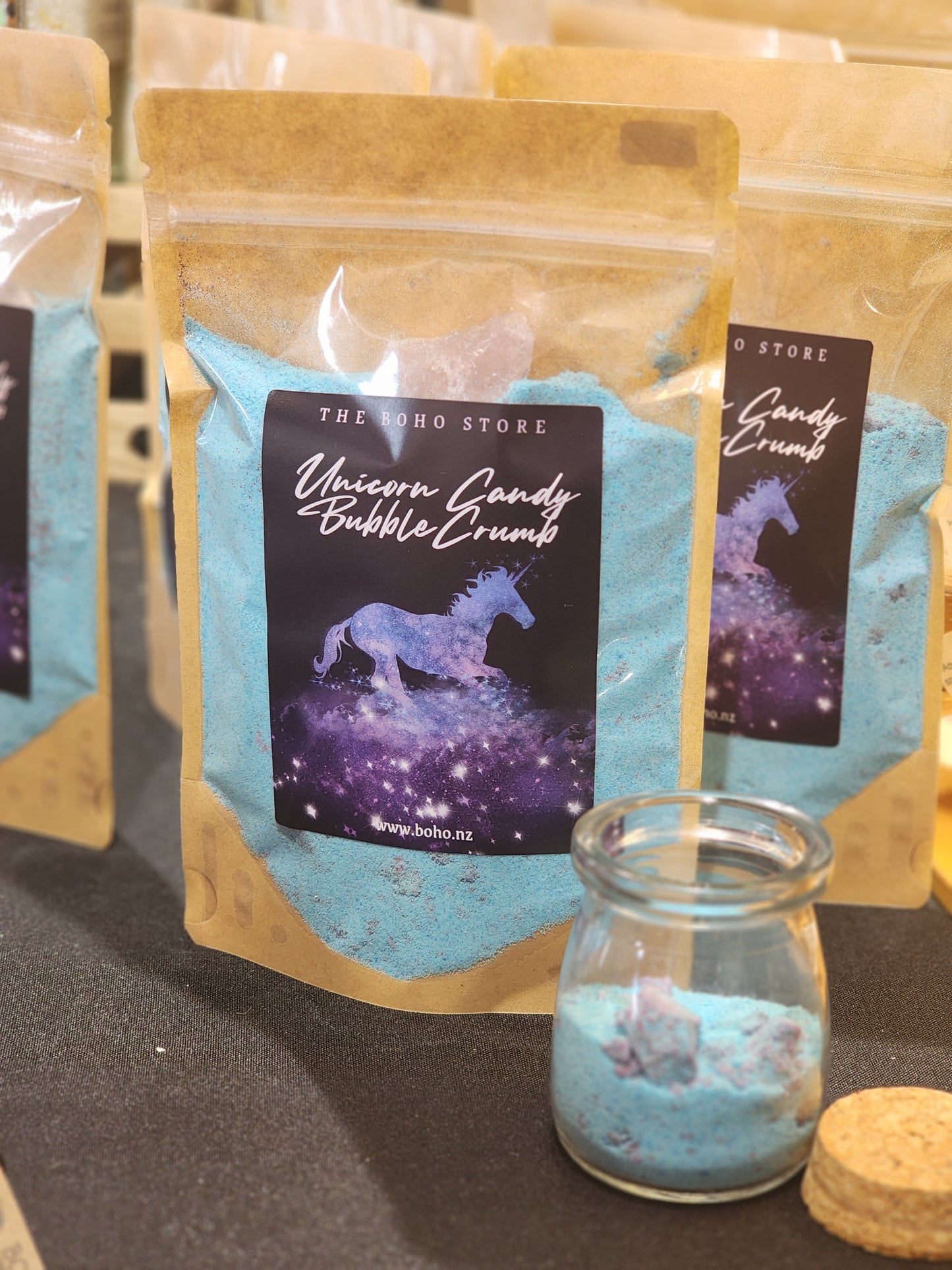 Handmade and sourced with love!
Our products are handmade here in Tauranga or are responsibly sourced from around the world, via our awesome suppliers! We use the best natural ingredients for our body and home care, source the most beautiful, high quality crystals and stock kick-ass brands whose products do good!
Good vibes!

We're all about bringing the good vibes when you shop with us. That means great quality products that are kinder to you and our planet.

We are local!

That's right, our soaps and body care are locally made, right here in Tauranga. Our store is also locally owned and operated too!

We ship free $175+

For NZ orders over $175+, we'll ship out your Boho Store goodness to you for free! Zero, zilch, nada!

See more