Thieves Away Roller Blend
Regular price
Sale price
$22.00 NZD
Unit price
per
Sale
Sold out
We have combined Lotus Oils Thieves oil with sweet Almond oil ready to roll onto your skin amd help protect you and you family!
A little background....
Thieves oil is an essential oil blend based on a story from the 15th century, when the bubonic plague was decimating populations in Europe and Asia.
Four thieves from Europe, who were notoriously robbing the infectious dead bodies of all their possessions somehow never contracted
the highly infectious plague and this led to deep inquiry in court once they were caught.
The magistrate offered them a deal, their secret for a reduced
sentence. Taking the deal, they told stories of this specific herbal blend that they had created, concocted from aromatic herbs that seemed very effective in killing all airborne bacteria.
We don't know whether or not thieves' story is true, but we know so much more about the Plague now it may have been possible the essential oils could have made a difference. And with such a warm spicy inviting smell it's a great oil blend to complement your home.
Roller contains...
Sweet almond oil, Clove bud, Eucalyptus, cinnamon leaf, lemon & rosemary
What's Inside

Sweet Almond oil, Lavender, clary sage, ylang ylang & frankincense to bring you calm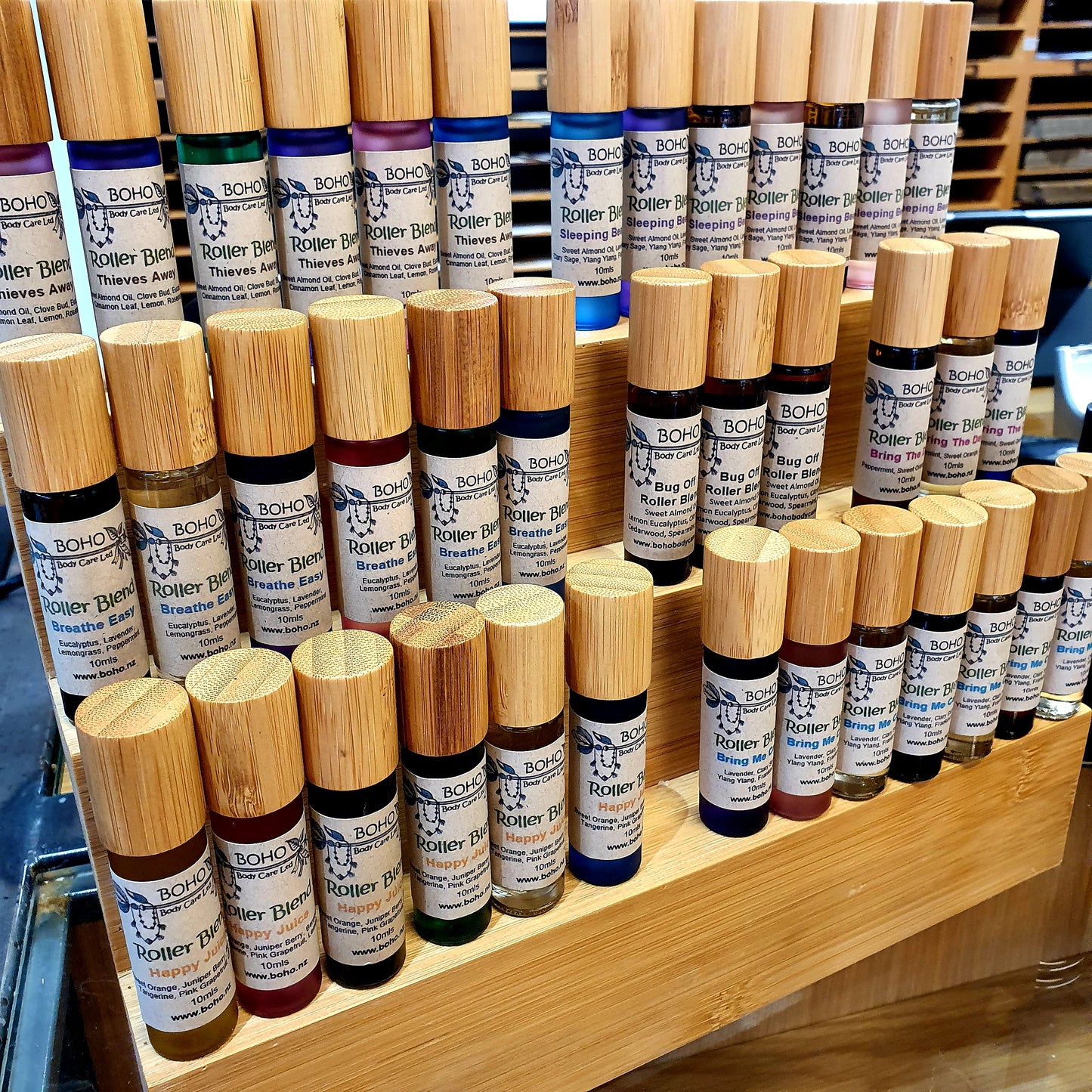 Handmade and sourced with love!
Our products are handmade here in Tauranga or are responsibly sourced from around the world, via our awesome suppliers! We use the best natural ingredients for our body and home care, source the most beautiful, high quality crystals and stock kick-ass brands whose products do good!
Good vibes!

We're all about bringing the good vibes when you shop with us. That means great quality products that are kinder to you and our planet.

We are local!

That's right, our soaps and body care are locally made, right here in Tauranga. Our store is also locally owned and operated too!

We ship free $175+

For NZ orders over $175+, we'll ship out your Boho Store goodness to you for free! Zero, zilch, nada!

See more